BENEFITS OF OPERATOR CONNECT:
Operator Connect allows you to manage all your numbers and users directly inside of the Microsoft Teams Admin Center. You can request a relationship directly from the Teams Admin Center, which allows you to see and assign numbers provided to you by NUWAVE.​
FUTURE PROOF:
As features get added, NUWAVE can help you bridge the gap with Direct Routing while OC grows.​
​
Reasons to choose Operator Connect:
Simplified Deployment Process​
Fast Setup, setup in minutes​
Phone Number management from Teams Admin Center​
Fully Cloud Based Solution, No equipment required, Fully Managed Solution​
1:1 network connection for enhanced resilience through MAPS​
Manage Numbers from Multiple Operators in the Teams Admin Center​
Can Coexist with Direct Routing and Calling Plans in the same tenant


Direct Connection Through Microsoft Azure Peering Services​

Teams Admin Center Management
BUILDING NOW FOR THE FUTURE​
Number Provisioning:​
Manage all your numbers and users directly inside of the Microsoft Teams Admin Center.​
Self Service Management of Phone Numbers and users through the Teams Admin Portal​
DID inventory management and assignment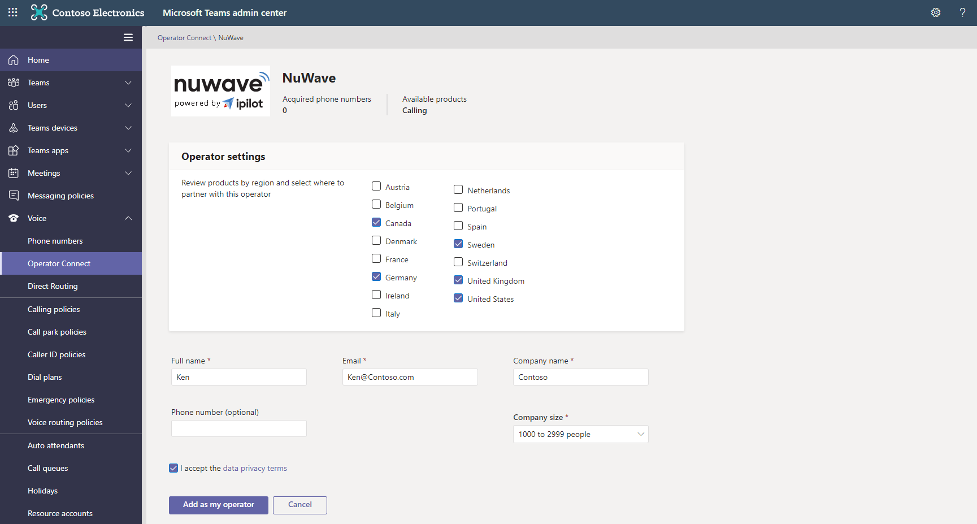 NUMBER PROVISIONING
For the Customer:​
Self Service Management of Phone

Numbers and users through the

Teams Admin Portal

​

DID inventory management and

assignment

​
For the Operator:​
Numbers show up in the Teams

Admin Center

​

Simple MACD changes through the

portal